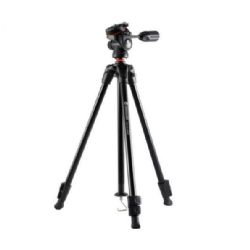 Vanguard Pro Aluminum Tripod
SKU: 419654
MPN: ESPOD CX 233AGH
BRAND: Vanguard
CONDITION: New
Fast & Free Shipping (Ships in 1-2 Business Days)
Need help? Call Us:
855-551-0555
Vanguard provides a stable and lightweight (2.7 lb) support with an innovative pistol-grip head. The tripod extends to 61" and folds down to 23.2".

The head combines the versatility of a 360° panning ball head with the unique feature of one-handed operation. To change your camera position, you simply turn the lock counter-clockwise to release the lock on the ball, reposition your camera, and turn the lock clockwise to lock the ball in position. This enables extremely fast setups while allowing you to keep one hand on the camera and one hand on the pistol grip.

The tripod legs have 3 sections that can be quickly adjusted by way of flip locks. An anti-shock ring on the center column helps absorb shock, thereby reducing camera shake, while a bull's eye bubble level ensures accuracy when leveling your camera to the horizon.