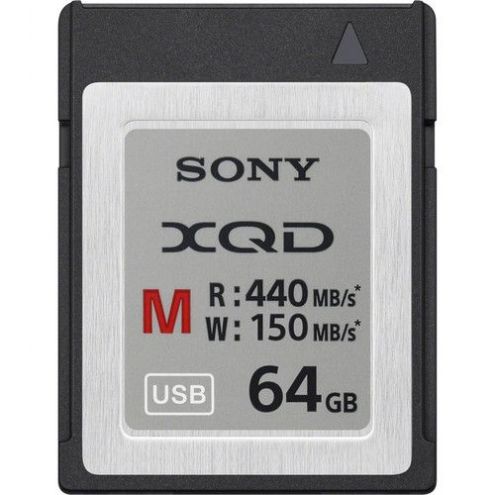 Sony 64GB M Series XQD Memory Card
SKU: 423224
MPN: QDM64/J
BRAND: Lexar
CONDITION: New
Fast & Free Shipping (Ships in 1-2 Business Days)
Need help? Call Us:
855-551-0555
With the highly durable and reliable 64GB M Series XQD Memory Card from Sony you can capture photos and video in a variety of locations as it comes shock, temperature, X-ray, magnetic, electrostatic, temperature proof, and can guard against UV light. With data read speeds up to 440 MB/s and write speeds up to 150 MB/s this XQD memory card is perfect for capturing RAW images and video in a variety of formats up to and including 4K.
XQD Interface
XQD Interface: ExpressCard/34 PCI Express Gen.2 (5 Gbps)
XQD Interface: USB 3.0 (SuperSpeed)
Up to 440 MB/s Read Speed
Dramatically reduce ingest time even for large quantities of RAW images or data-intensive 4K video files.
High Durability and Reliability
Strengthened outer case for robustness and pins hidden inside the case for safe use. The card is also shock proof, X-ray proof, magnetic proof, electrostatic proof, temperature proof and UV guard to withstand harsh environments.
.
Sony 64GB M Series XQD Memory Card
Limited 2-Year Manufacturer Warranty