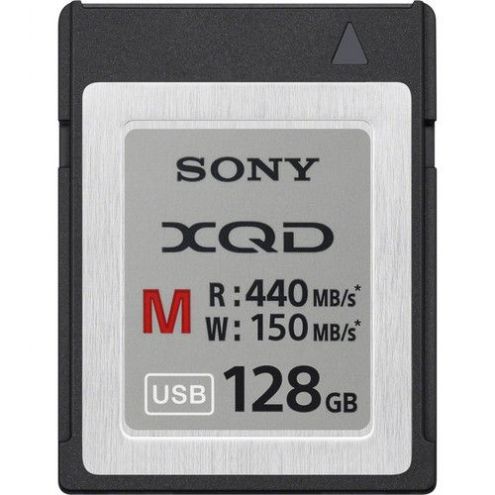 Sony 128GB G Series XQD Format Version 2 Memory Card
SKU: 421687
MPN: QDG128A/J
BRAND: Sony
CONDITION: New
Fast & Free Shipping (Ships in 1-2 Business Days)
Need help? Call Us:
855-551-0555
This 64GB G Series XQD Format Version 2 Memory Card from Sony is a XQD memory card designed to enhance the workflow of those working with 4K video content and RAW images. With data read speeds of up to 400 MB/s and write speeds of up to 350 MB/s you can transfer your various media files quickly and efficiently. Sony has integrated their own unique controller to ensure the data speeds are accurate and consistent. Additionally, this memory card comes with a USB 3.0 adapter to help streamline workflows when a XQD card slot isn't available.
Enhanced Data Read & Write Speeds
The G series achieved read 440 MB/s and write 350 MB/s speeds by using advanced PCIe Gen2 interface. The increased write speed of G series will enhance the capability of high speed burst shooting with DSLR camera. You also benefit from dramatically reduced transfer times even for large quantities of RAW images or data-intensive 4K video files. A dedicated USB 3.0 adapter will be supplied to offer convenience and efficiency for professional workflows.
Optimized Flash Memory
The optimized flash memory and Sony's unique controller enable the high-speed data processing of this G series XQD memory card.
Compatible Products
This XQD memory card offers compatibility with Sony's professional 4K video cameras, consumer 4K video cameras, compatible Nikon DSLR, and other consumer-based DSLR cameras that offer XQD compatibility.