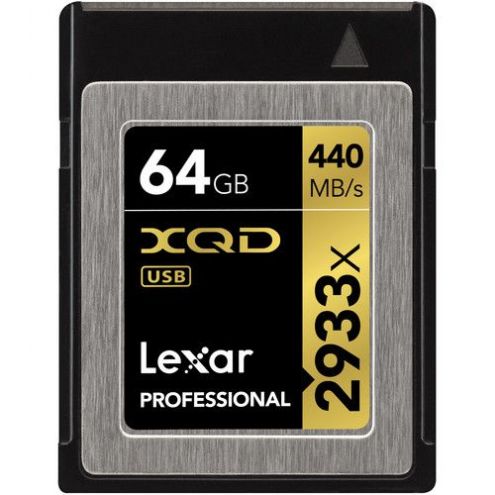 Lexar 64GB 2933x XQD 2.0 Memory Card
SKU: 423218
MPN: LXQD64GCRBNA2933
BRAND: Lexar
CONDITION: New
Fast & Free Shipping (Ships in 1-2 Business Days)
Need help? Call Us:
855-551-0555
1
2
3
4
5
Top Memory Cards for Photo and Video Recording
Read More
Designed for use in a variety of high-definition and high resolution cameras, the 64GB 2933x XQD 2.0 Memory Card from Lexar utilizes PCI Express as a data interface to provide read speeds of up to 440 MB/s and write speeds of up to 400 MB/s. With a data transfer speed rating of 2933x you can record 4K video and capture high resolution images with ease. Whether you record in studio or out in the elements this card stands up to temperature extremes, water, and shock to keep your files safe, even on-the-go. If your files do become corrupted or accidentally deleted, Lexars Image Rescue recovery software is there to help you recover them.
Recovery software available via download.
Shoot High-Quality Images and 4K Video
Designed to leverage the capabilities of high-definition camcorders and high-resolution DSLR cameras, the Lexar Professional 2933x XQD 2.0 card allows you to capture stunning, high-quality images and 4K video.
Capture Adventure with Enhanced Durability
The Lexar Professional 2933x XQD 2.0 card delivers the rugged durability you need to get that perfect shot. It provides exceptional resilience in regards to water, temperature, shock/vibration, and more. So from the Sahara to Siberia, you have the peace of mind that you've got a card you can trust to capture breathtaking images.
Save Time with Accelerated Workflows
The high-speed performance of the card allows you to quickly shoot and transfer your files. And when used with an XQD 2.0 USB 3.0 reader, such as the Lexar Professional Workflow XR2, you'll maximize the read transfer speed capability of the card. This dramatically accelerates your workflow from start to finish, so you can save time and get back to the business of photography.
Recover Files with Image Rescue Software
The card includes a lifetime copy of Image Rescue software. Image Rescue recovers most photo and select video files, even if they've been erased or the card has been corrupted. The software is available for free download with purchase of the card.