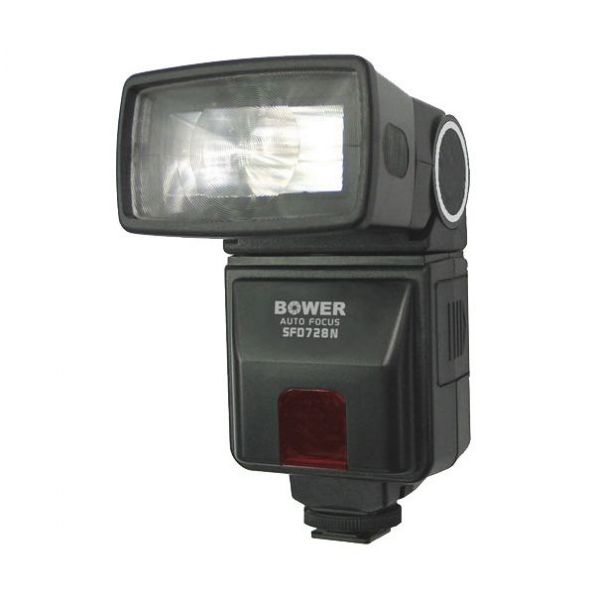 Bower SFD728 Autofocus Flash TTL for Nikon Cameras
SKU: 421969
MPN: SFD728N
BRAND: Bower
CONDITION: New
Fast & Free Shipping (Ships in 1-2 Business Days)
Need help? Call Us:
855-551-0555
The Bower SFD728 Autofocus TTL Flash is a dedicated shoe-mount flash with i-TTL exposure metering capabilities for Nikon cameras. The flash features a guide number of 92' at ISO 100 and a TTL range of 45.9' for automatic control of the flash output. The four-position zoom head covers a focal length range between 28mm and 85mm and a 0-90° bounce and 330° swivel design enables extensive head positioning capabilities.

An infrared AF assist beam is integrated into the flash's design to promote faster focusing in low-light conditions and an intelligent auto-check light is also available to confirm if the subject is within TTL range. Red-eye reduction and second/rear-curtain sync modes are also available, as well as slow synchronization mode, when used with supported cameras.

Full TTL dedication available for Nikon cameras.
Four-position zoom head covers focal lengths between 28mm and 85mm.
Bounce adjustment of 0-90° and a horizontal swivel of up to 330° enable a wide variety of flash head movements.
An AF assist beam, up to 26', aids in focusing during low-light situations.
Flash duration is 1/700 sec. at full power.
5600K color temperature helps to balance flash output with other daylight-balanced light sources.